Poolhouse Malta Bar & Restaurant
at Sprachcaffe Pembroke
Enjoy the relaxing atmosphere in our cozy inside or outside on our terrace under palm trees next to the large pool and have delicious Mediterranean meals and tasty drinks in a historical setting in Pembroke. Here, guests from all over the world mingle with local residents and enjoy the inspiring atmosphere of the Sprachcaffe Campus. A place where everybody is welcomed and can feel comfortable - it's like home. We look forward to your visit.
We at the Bar & Restaurant in Pembroke are happy to help you organise your own personal event. Regular events and meetups are held here to create opportunities for inspiring encounters. Theme nights like welcome parties for new arrivals, pizza night, sushi workshops or traditional Maltese rabbit dinners take place every week. The events change continuously, so there is always something new on the program. This is the perfect opportunity to enjoy your stay at Sprachcaffe Malta and relax.
From Monday to Sunday
Lounge Bar:
08:00 am - 12:00 am/ 13:30 til open-end
Kitchen:
Breakfast: 08:00 - 10:00 am
Lunch: 12:00 - 13:30 pm
Dinner: 19:30 - 21:30 pm
Have a perfect start into the day with a hot coffee, a cappuchino or a good cup of english tea at a mediterranean breakfast buffet with sweet and salty options like cereals, eggs, bread, ham, cheese, sausage and juices while looking out over a beautiful hystorical campus.
Enjoy lunch or dinner with Mediterranean and international cuisine in a historical setting. Choose from fresh fish, juicy meat, Italian pasta and pizza, burgers, fresh salads and homemade soups.
All meals are also available to take away. Give us a ring: +356 2570 1025
The Bar is a place for everyone - whether you're spending a day by the pool, just want to have an aperitif or a nightcap. Choose from snacks, delicious cake or sandwiches as well as refreshments from coffee variations, soft drinks to beer, tasty wine, cocktails and spirits.
Whether you want to have an aperitif at the Bar or a delicious dinner in the Restaurant, this is the place for you. We are only about 10 minutes walk from the famous patry district of Malta, Paceville. If you are planning to party, this is the ideal starting point for clubbing in Malta.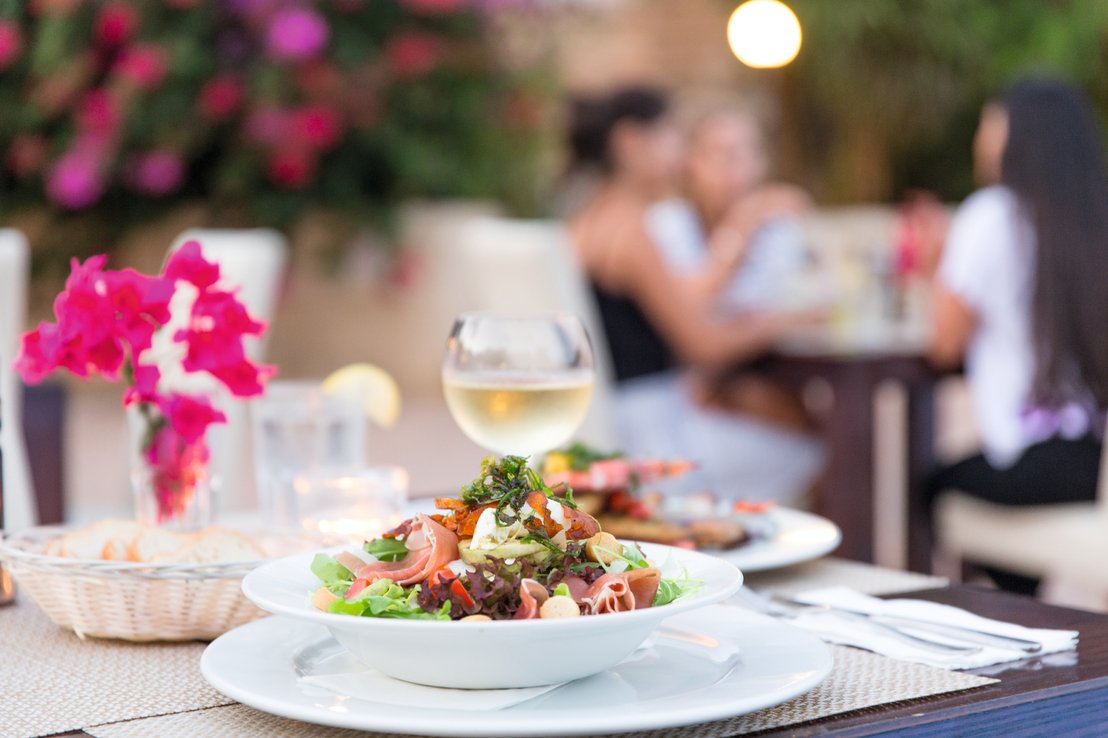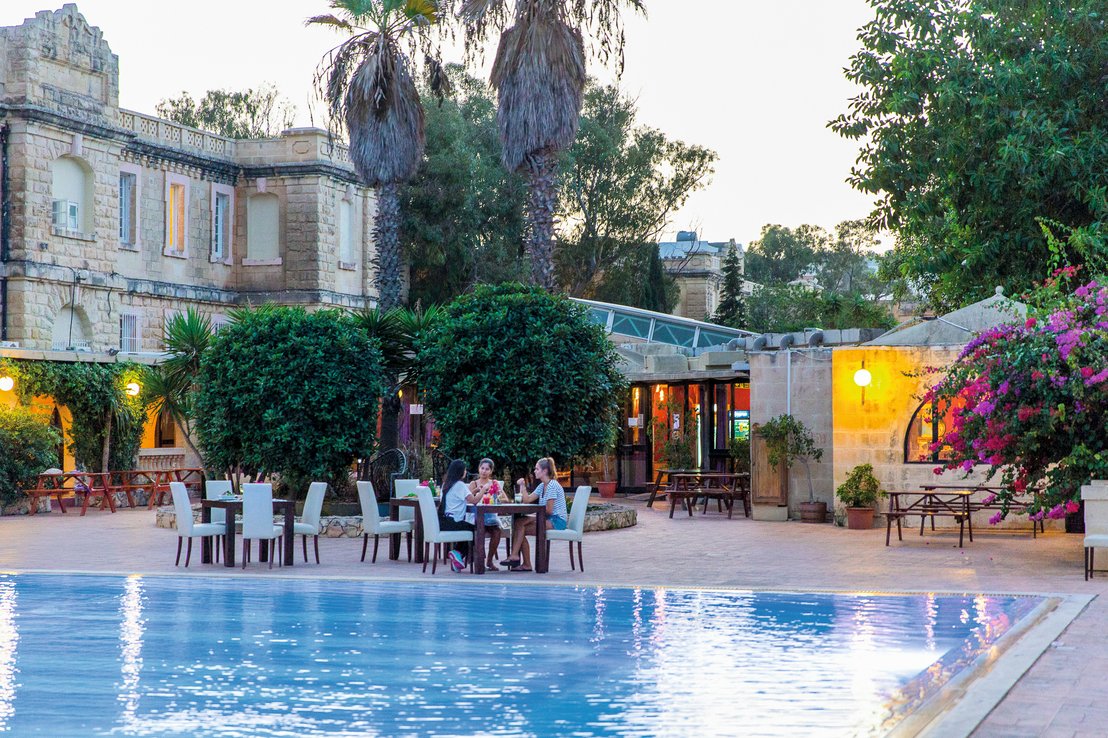 Celebrate your event with us - weather it is your birthday party, wedding or just a get together, if you want to have an open bar and nibbles or a sit-down lunch/ dinner in a wonderful hystorical setting with a large pool.
Wonderful venue, great location and easy parking! Just tell us your ideas and we customise your event.
Contact us to organize your Event
Or give us a ring: +356 2570 1025
Regular events and theme nights
All new students are introduced to each other, to students who are already there, staff and everybody else. If you're looking to meet new friends from all over the world, join us for the welcome party. It's happening every Monday in our Lounge. There will be plenty of talking, dancing and fun.
You had a tough day learning, meeting new people or exploring the islands? Relax in our Lounge and watch a movie with everyone. There will be popcorn, beer and a good movie for sure. Movie Night is free of charge so come around and enjoy!
It is always the highlight of the week. You don't really feel like the new Elvis? It doesn't matter because we all know - what happens at Karaoke stays at Karaoke! You can perform alone or in a group. For sure everybody will join your singing and you'll have a lot of fun. So pick a song and get on stage!
Who doesn't love a good pizza?
Come around and enjoy our wonderfully big pizzas!
All you need is love and pizza, right?
*The events change continuously. There may be some weeks in which you won't find all the events on the program.
Our lovely Bar & Restaurant is the perfect place to meet new friends from all over the world, to talk the whole night, have a drink together, sing together or relax. Enjoy the excellent food and drinks while you get to know many people from all over the world.