The legendary Sprachcaffe Campus at St. Julian's
The Sprachcaffe Campus in Malta is located in the quiet town of Pembroke, very close to the sea and within 5 minutes' walking distance of the busy popular town of St. Jullians and nightlife hub Paceville. Our Campus occupies several imposing buildings that are architectural gems in their own right. The two-storey buildings were built in the 1904 by the British military and are unmistakably colonial - a most impressive sight.
Our famous swimming pool is Olympic size and is extremely popular in the warmer 9 months on the maltese island. Apart from the classrooms, apartments and the pool, on our campus you will find a lounge bar & restaurant and games room, video room, study room, library and leisure facilities including a volleyball court and a beautiful, well-kept garden. If you are a digital nomad or want to work in a very inspiring place for a limited time, this is the place for you. On campus you will find a wonderful coliving and coworking project.
We strive to create a light, relaxed atmosphere that helps cosmopolits, all students and visitors of the Sprachcaffe Campus of any age, nationality or level of English to easily adapt, make friends, have fun and of course learn English with ease.
Whenever you have a question or need help, there is always someone there for you.
Enjoy the heat outside and cool down in your Studio- or Comfort Apartment.
The campus is just a 10 min. walk from St. Julian's.
The Lounge Bar & Restaurant
You can have breakfast, lunch & dinner, buy drinks, snacks, ice-cream as well as cigarettes in our Lounge.
Rent an office and enjoy your work life in Malta.
We offer a wide range of accommodations and stay options for everyone.
A rocky beach is 10 minutes' and a sandy beach is 15 minutes' walking distance from the school.
Go for a swim or relax a day by the Olympic pool.
Enjoy one of the fastest connections in the area! Internet and Wifi is free throughout the common Campus.
Bus Station nearby: 15 minutes by bus to Sliema, 35 minutes to the capital, Valletta (Day ticket €1.50; weekly ticket €6.50).
Room 12 is available for students to do their homework and revise their lessons.
Beach Volleyball court & Games Room
Challange your friends in a game of Volleyball or Pool.
Self-access facilities including DVDs and books to buy or borrow. Never stop your learning!
You didn't pack enough clothes? No worries, there is a washing machine & dryer available for a small cost.
A varied leisure program with activities and excursions to suit all tastes.
Enjoy our weekly Movie Nights. We have a variety of genres for all tastes!
A supermarket is 5 minutes' and a shopping complex is 15 minutes' walking distance from the school.
Separate dining facility for young learners
Our young learners can enjoy their lunch by themselves without any disturbances.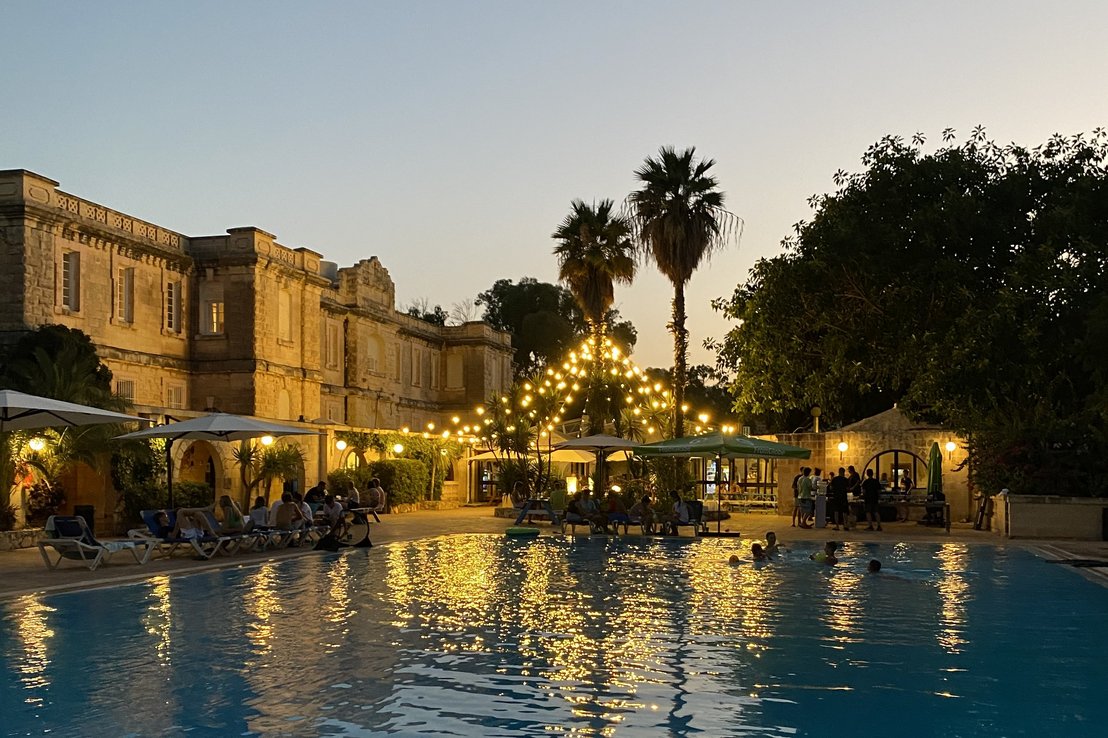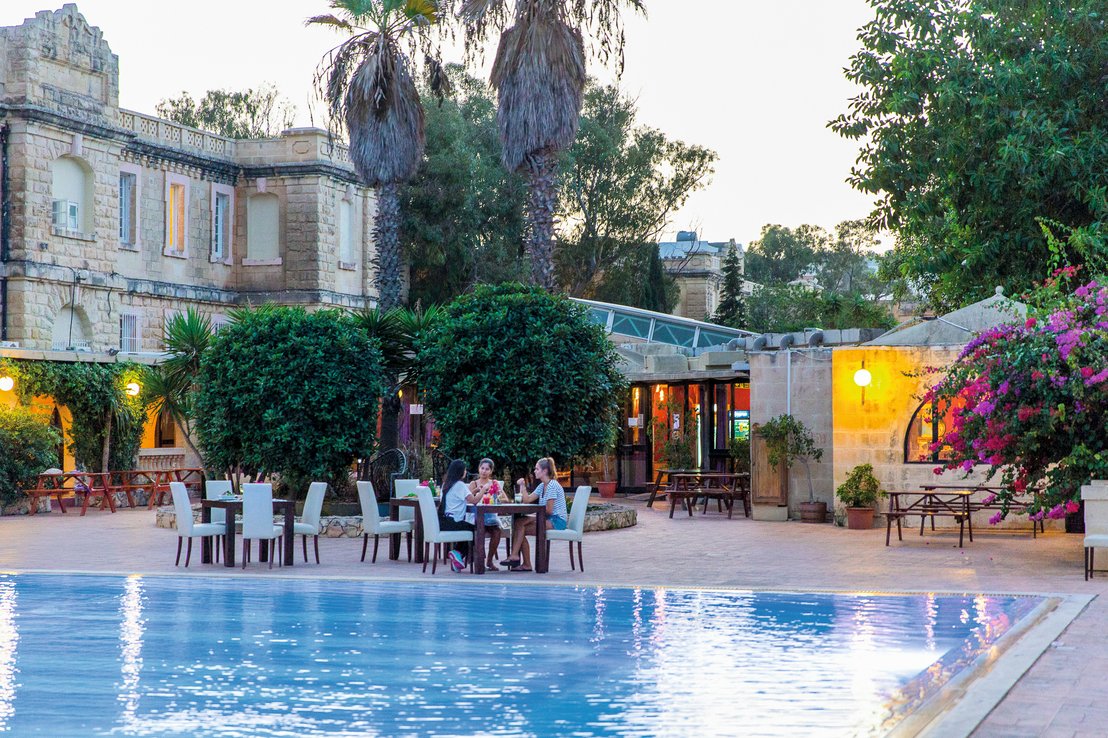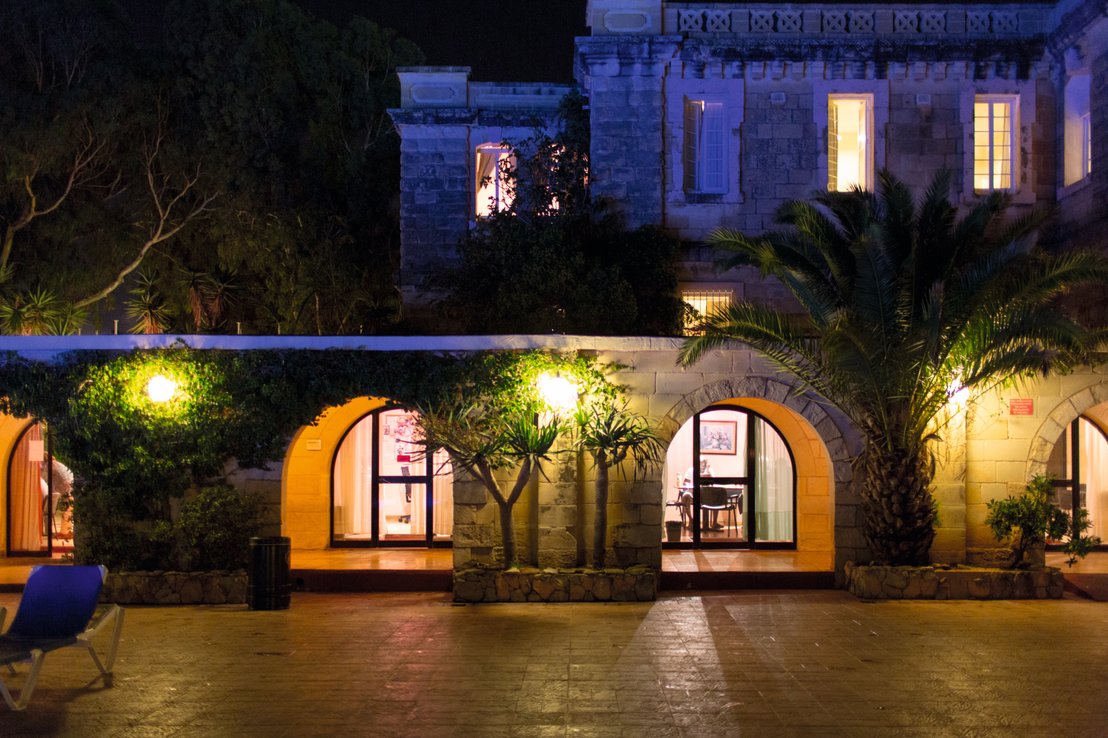 The location of the Sprachcaffe Campus
Our language school in Malta is located on the east coast of the sunny island not far from the picturesque village of St. Julians (San Ġiljan). Once an unknown fishing village, St. Julian's has now grown into a town with all the amenities, yet still managed to retain its postcard idyll. Here you can stroll along a promenade with shops and restaurants right by the sea, enjoy the nightlife in the streets of Paceville or immerse yourself in the atmosphere of a traditional harbour with fishing boats at Spinola Bay. St. Julians is also home to St George's Bay with the sandy beach closest to the language school. If you would like a bit more luxury, Portomaso Bay is the right place for you. Here you will find a marina with luxurious restaurants and boutiques.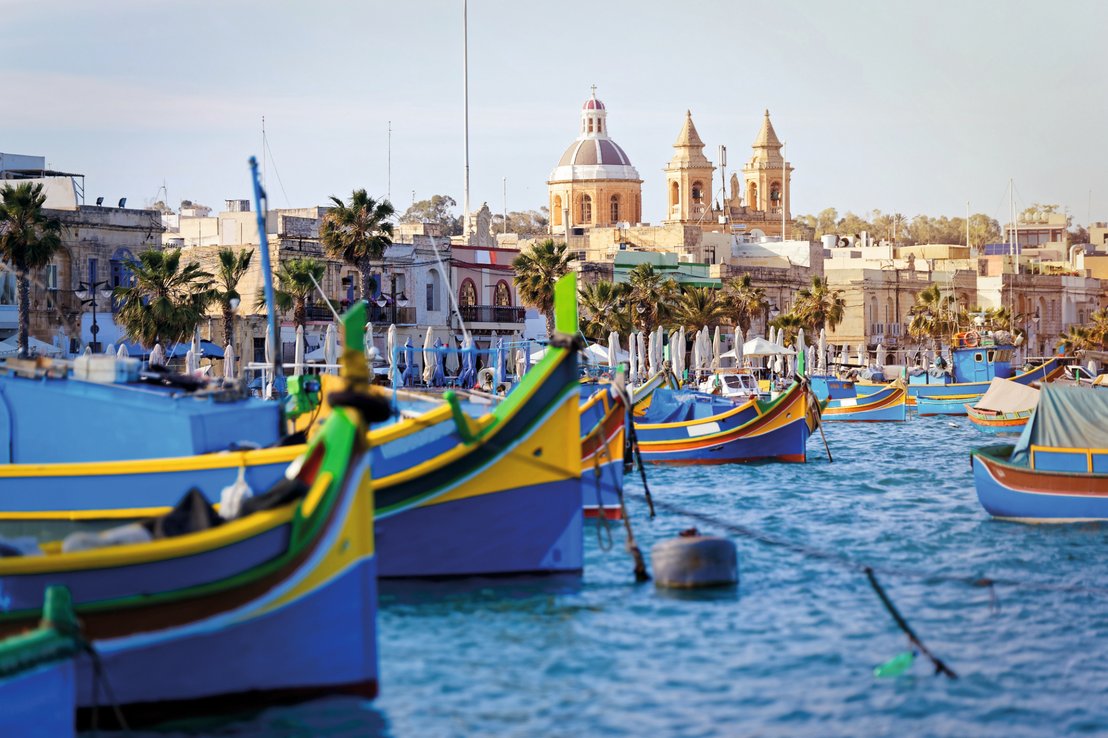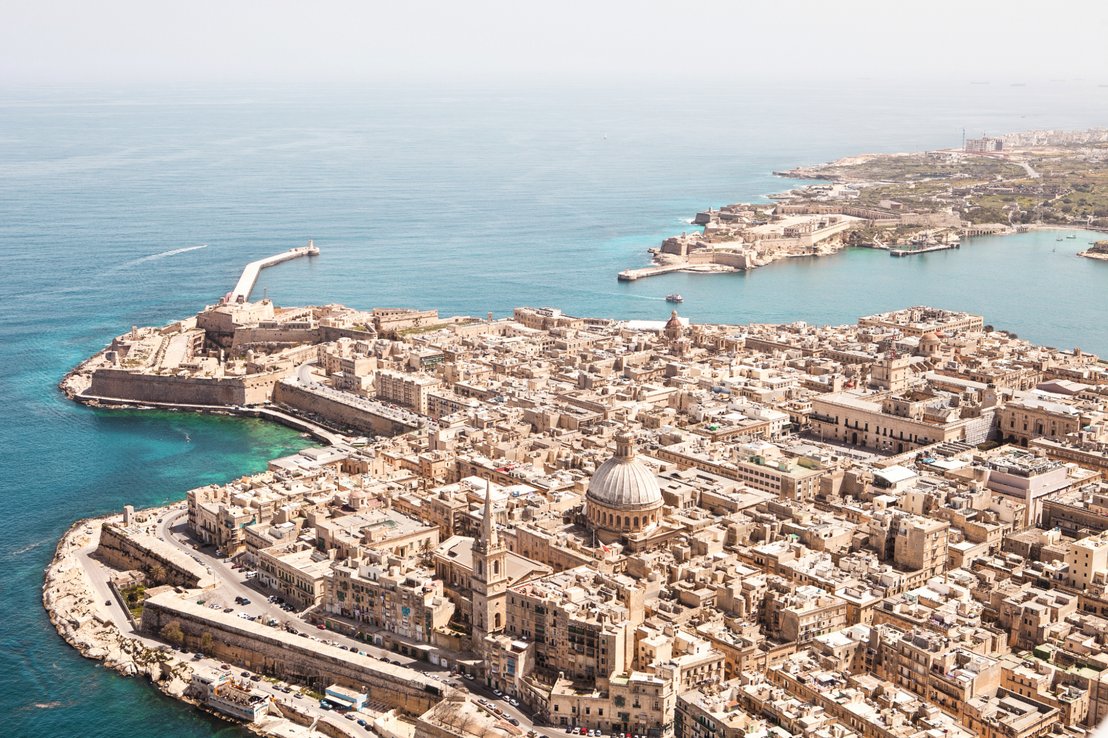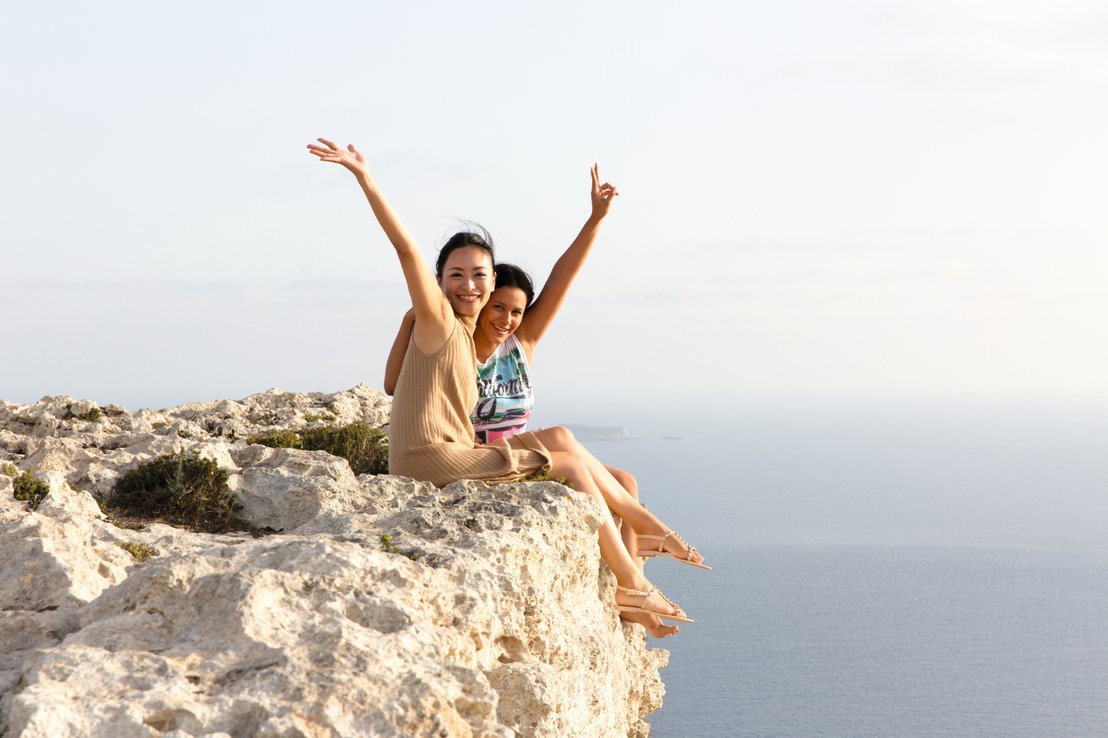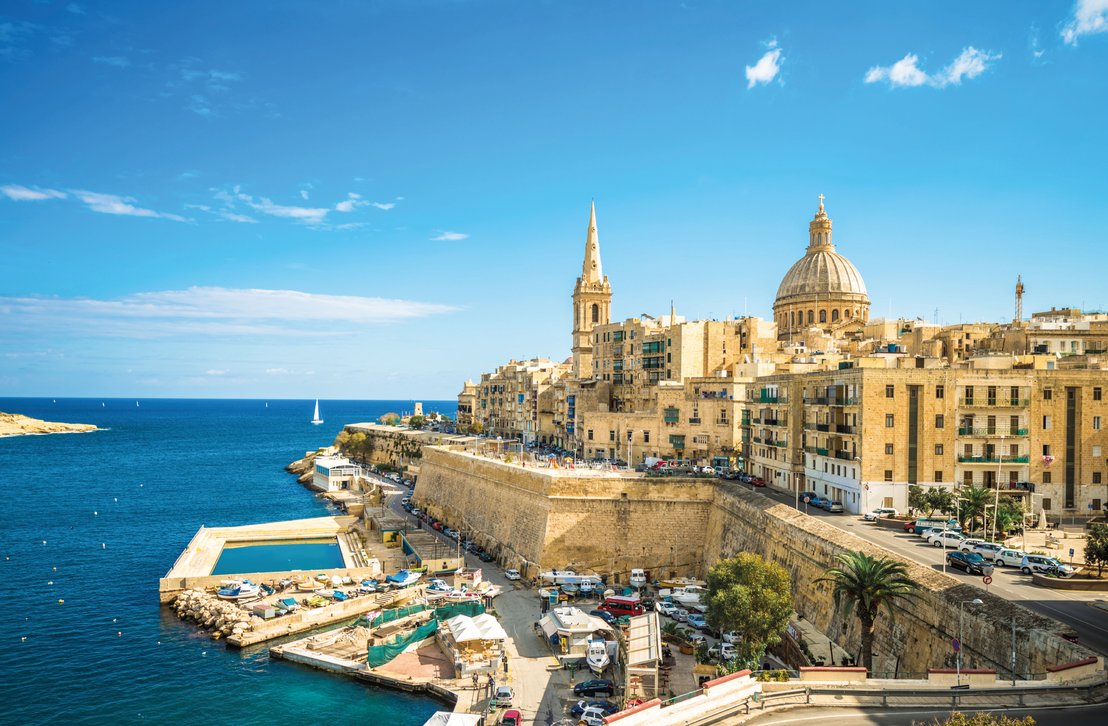 The Sprachcaffe campus has a beach volleyball court and football and tennis pitches in the immediate vicinity, which are often used for joint activities of our guests. If you would like to swim in the sea, it's only a 5-minute walk from the campus, where you will find numerous swimming facilities such as the Pembroke Pool (an easy way to access the sea via the rocky beach).
Around the corner you will find a lot of shopping facilities like fish and vegetable shops, the supermarket "Geens" with a wide range of mediterranean and local delicacies but also all things for daily needs. This allows you to cook together with new friends and the language trip becomes a true community experience.
Not far from the english school is one of Malta's most important bus stations, from where you can easily explore the Maltese islands by public transport. If you prefer to discover the island by rental car during your english language stay, we will be happy to help you with the organisation.
On top of your english course in Malta you will also get to know the country and its people. Let us surprise you: Language travel to Malta has already made many a true connoisseur and fan of the impressive Maltese islands. The english language school »
Do you have questions about the Sprachcaffe Campus in Malta?
We are always ready to solve any doubts you might have!