Outdoor activities in Malta
you definitely shouldn't miss
Malta is a paradise for outdoor activities. Not only the many beautiful beaches and the Mediterranean Sea are among the highlights. You can also visit many breathtaking cliffs, gorges and caves. Whether climbing, hiking or cycling. On Malta, especially sports enthusiasts and adventurous travellers get their money's worth.
In addition, the unique cities and temples make a trip to Malta an unforgettable experience. So that you don't miss any outdoor activities on your next trip to Malta, we have selected the most popular outdoor activities for you. Let us advertise you and start planning your trip to Malta now!
Sporty outdoor activities in Malta
Malta is the perfect destination for sports enthusiasts and adventurers. Malta offers an abundance of outdoor sports activities. Whether it's hiking inland or along the coast or cycling around the island, Malta offers everything your heart desires. We show you which outdoor activities you should definitely do in Malta.
Outdoor activities on land
The breathtakingly beautiful nature on Malta invites you to explore. Malta is an island full of breathtaking landscapes, caves and natural spectacles. Especially the coasts of Malta, Comino and Gozo are a highlight in themselves. In the following, we will show you which outdoor activities on land will help you get the most out of your language study trip to Malta and also get to know the island in all its facets.
You can explore the various islands of Malta quickly and in a relaxed manner by bike. You can discover many natural highlights on a day trip into the interior of Malta or along the coast. You can either plan a cycling tour along planned cycling routes or explore the beautiful island in the Mediterranean Sea on your own. The best cycling tours in Malta are along the coast around the islands of Comino or Gozo. During these cycling tours you will get to know the advantages of both islands of the Malta archipelago. We have compiled our favourite cycling tours in Malta for you on the following map. Check them out and get ready for your next trip to Malta.
Malta is known for its beautiful hiking routes that lead through the idyllic nature of the island archipelago in the Mediterranean Sea. Enjoy the wonderful nature of Malta on your Malta walking tour, either alone or in a group with a tour guide. Particularly popular in Malta are coastal walks that take you along the stunning cliffs. The slow pace of a hike allows you to take in the natural beauty of Malta. This will help you to relax on your Malta trip and forget your everyday stress.
Climbing and bouldering have become a real trend sport over the years. In Malta, you can climb cliffs and rock faces in an incredibly beautiful environment. The countless gorges and cliffs on Malta are a highlight in themselves, especially for climbing fans. As well as climbing up, you can also abseil down one of the cliffs and enjoy the stunning views. Due to the perfect weather all year round, it is possible to climb in Malta at any time.
Climbing in Wied il-Mielaħ
This climbing spot at the northernmost point of Gozo is right on the coast. You need to be an experienced climber to climb along the rugged cliffs at the edge of the Gozo coast. The place is very easy to reach by car.
Climbing in Mġarr ix-Xini
The climbing spot in Mġarr ix-Xini offers a real challenge especially for sport climbers. Climbing enthusiasts can climb up rock faces via several routes. You can find this place in the south of Gozo.
You prefer it motorised and fast? Then a quad tour in Malta is definitely the right thing for you. Most quad tours take you along the coast and inland and provide a lot of adrenaline and fun. For example, during your quad tour on Gozo, you can explore the northernmost island of the Malta archipelago on a rentable quad bike.
Would you like to get to know Malta more closely and learn more about the entry requirements? Then take a look at our Visit Malta page!

Get some facts about Malta
Outdoor activities close to the sea
On a summer holiday in the Mediterranean, refreshing outdoor activities in the water are a must. Here we have summarised some cooling outdoor activities in the sea for your stay in Malta.
Swimming in bays and lagoons
In Malta, the weather is fine all year round. However, especially in summer, paradisiacal beaches and bays invite you to swim. Malta is also the perfect destination for a beach holiday. During your stay in Malta, you can visit a different beach every day if you wish and relax in the paradisiacal Mediterranean Sea.
Swimming in lagoons, such as the Blue Lagoon, is also one of the highlights of any mast holiday. Would you like to learn more about the most beautiful beaches in Malta? Then take a look at our travel guide for Malta. Especially the variety of beaches makes a beach holiday in Malta something very special.
Diving and snorkelling in Malta
Malta is a highlight for divers and snorkellers because of its crystal clear Mediterranean water. No matter if beginner or professional diver, in Malta everyone gets his money's worth. The clear turquoise water in Malta ensures perfect visibility for snorkelling and diving. You can book a diving course in St. Julians and get to know the underwater world of Malta. Snorkelling can also be done without their diving course.
As you can see, Malta is the perfect holiday destination for exciting outdoor activities on land and in the water. Want to find out what makes a trip to Malta unique? Then read on and find out more!
Malta offers a very special highlight for diving fans. Numerous shipwrecks lie on the ground off the coasts of Malta, Gozo and Comino. These wrecks are an exciting highlight, especially for experienced divers. For example, a shipwreck that sank in 1901 lies on the ground off the capital Valletta and invites you to go wreck diving. For those who love exciting underwater explorations, Malta is the perfect destination.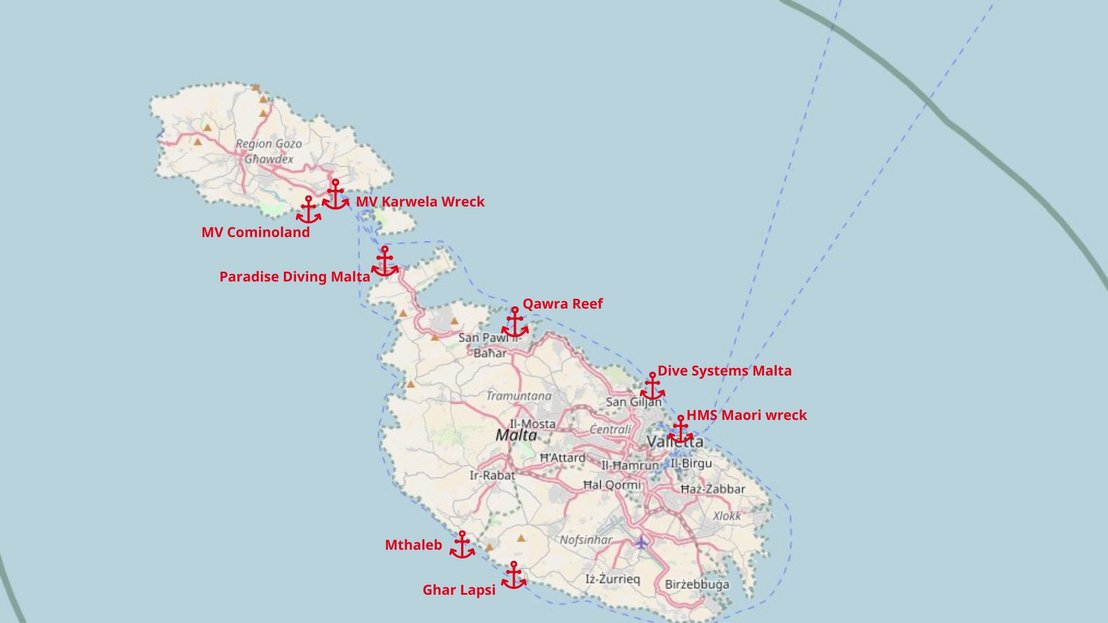 Unique activities in Malta
A trip to Malta is very special and offers you sights, incredible places and breathtaking natural spectacles that you can't see anywhere else in the world. Here are some of the unique outdoor activities in Malta that you should include in your itinerary.
Boat tour along the coast
There are plenty of breathtaking boat tours on Malta that take you along the island's rugged coastline. However, one boat tour that every visitor to Malta should definitely do is the boat trip to the Blue Lagoon. Depending on the boat tour, it starts on the main island of the Malta archipelago, usually in St Pauls Bay, not far from the beautiful town of St Julians.
The Blue Lagoon boat tour takes you along the coastline of Malta to the island of Comino, where the Blue Lagoon is located. A boat tour is so special because you can see the coast of Malta from a completely different perspective. Along the coastline, you will be able to admire sea-sculpted rock formations, caves and rock bridges. Once you arrive at the Blue Lagoon, one of Malta's greatest natural highlights awaits you. A boat trip to the Blue Lagoon is definitely part of any stay in Malta!
Due to its unique temples, cities and nature, Malta is a very popular filming location for movies and series. For example, Malta was chosen as the location for some scenes in the popular series Game of Thrones. The map on the right shows how you can explore most of the Game of Thrones locations on the main island of the Malta archipelago in just one day.
Your journey starts in Malta's capital Valetta (Checkpoint 1). You will then proceed to Fort Ricasoli (Checkpoint 2), also known as the gateway to Valetta. After a stop at Fort St. Angelo (Checkpoint 3), you will continue to San Anton Palace and Gardens (Checkpoint 4). Next, Mdina (Checkpoint 5), the ancient capital of Malta, also awaits you. Finally, the impressive Verdala Palace (Checkpoint 6) awaits you.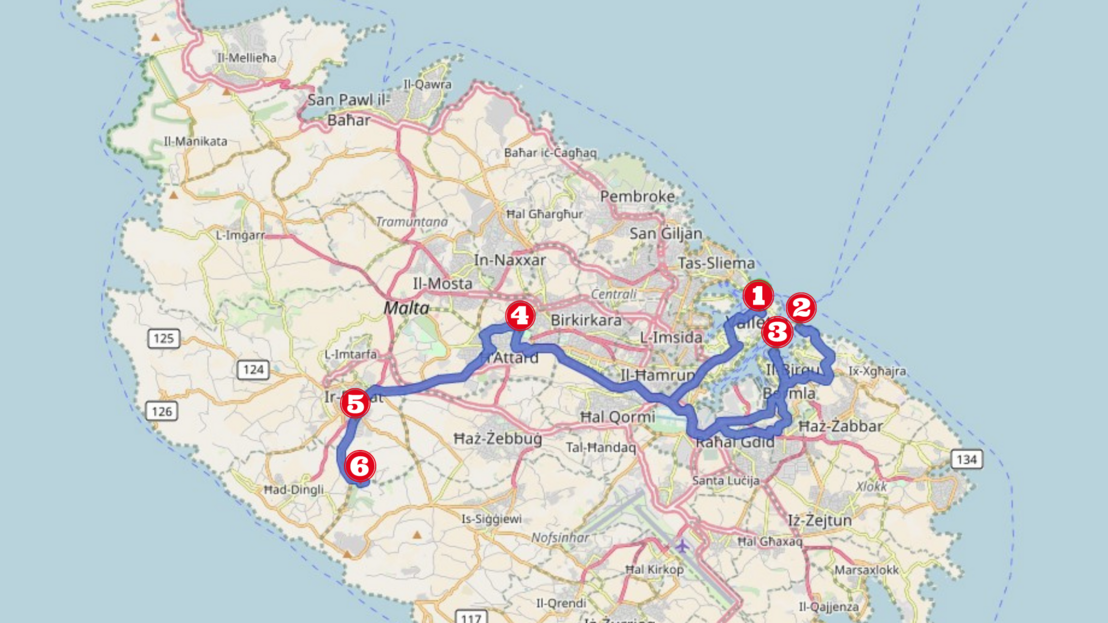 Malta - A dream for fan of outdoor activities
Malta is perfectly made for outdoor activities. Especially the numerous beaches, caves, cliffs and parks make Malta a very special place for fans of outdoor adventures. You can relax on one of the many beaches, go on boat tours, discover unique places or have an adventure in nature by bike or quad bike. A trip to Malta offers all this and much more. So don't hesitate and start planning your next outdoor adventure trip to Malta now!
Did you know that English is the main language spoken in Malta, so you can learn English incredibly well alongside the many outdoor activities? So combine your adventure holiday, packed with countless outdoor activities, with an educational language study trip in the Mediterranean paradise of Malta.
Do you have questions about the Sprachcaffe Campus in Malta?
We are always ready to solve any doubts you might have!