Summer Camp in Malta
Enjoy summer 2023 with our English Camp for young learners
It is essential to invest in your children's future and possessing proficient English skills is increasingly important for teenagers worldwide. It grants them opportunities to expand their horizons, access educational and career prospects, and acquire valuable life skills, all while enjoying themselves and making international connections. Opting for a supervised English language holiday in Malta presents an excellent amalgamation of an unforgettable and enjoyable vacation experience with effective learning.
A wonderful way to improve English skills while experiencing a fun and lively atmosphere on a sunny, welcoming island is by choosing to study in Malta. Young people from all over Europe and beyond come here every year to improve their communication, reading, writing, and listening skills. Malta is a top option for young learners looking for English language instruction due to its abundance of sunshine, stunning coastlines, pleasant climate, sizable native English-speaking population, and affordable costs.
Our team of leisure coordinators offers a wide variety of supervised activities as part of our specialized English classes in Malta designed for young learners. This program serves people between the ages of 14 and 21. You are welcome to enroll in our English language courses for adults if you are over 18 and prefer not to take part in the supervised programme.
Main benefits of the english camp
Develop social abilities like leadership, communication, and teamwork.
Boost self-esteem and confidence. raise awareness of cultural differences.
Opporunity to interact and connect with students from other countries.
Improve your vocabulary and grammatical understanding.
Strengthen your problem-solving abilities.
Practice speaking and listening in a fun and safe environment.
Accomodation at the Summer Camp
Check out our accomodation options for the Englisch Summer Camp at Sprachcaffe. All apartments are located on the legendary sprachcaffe campus so you will enjoy all the amenities on sight.
Young learners can take effective, relatively affordable classes at Sprachcaffe Malta with an enjoyable stay in amazing residence-style accommodations. While learning English in a fun and motivating classroom setting, you will meet young people from all over the world, go on fascinating new adventures with them and enjoy the island's sun, beach, and sea as well as its history and attractions. Young students share accomodation with teenagers from around the world, which helps them improve their language skills and understanding each others cultures.
Our teamers will be completely supporting the students between 18 to 21 years of age during their experience. Under 18 students are required to abide by all U20 program regulations and accept constant teacher and teamer supervision and control.
Services at the Summer Camp
English classes with 20 lessons per week, 1 lesson = 45 minutes.
Groups of 12-15 students.
Educational material provided for use.
End-of-course certificate.
Full-board accommodation.
Supervision by trained group leaders.
Return airport transfers.
Accompanied tours: 1-week language course: 1 half-day excursion included; 2-week language course: 1 full-day and 2 half-day excursions; 3-week language course: 2 full-day and 3-half-day excursions
Activities: sports, swimming, culture, evening entertainment (such as welcome parties, beach activities, BBQ, cinema and bowling).
Our experienced teachers will work with young students to activate and improve their pre-existing language skills in English using latest materials provided for the duration of the course at Sprachcaffe Malta. Classes are conducted with a maximum of 15 students per class. The ideal way to learn a language while taking in the splendor of this Mediterranean island is to enroll in one of our Junior English classes in Malta. Our extensive program provides lessons, housing, activities, and supervision that are specifically catered to the needs of young learners.
Our English classes offer a enjoyable and stimulating way to learn, thanks to our qualified teachers and minimum class sizes.
Carefully chosen accommodation options include host families, apartments, and dorms for students. These are all situated in places where our language schools and other neighborhood amenities are easily accessible.
Our young learners will make the most of their time in Malta thanks to the activities program.
Our experienced team of supervisors organise a variety of activities and excursions to the best places on the island.
Our students will have made incredible progress in their language abilities and will have a wonderful collection of memories from their time in Malta by the time the English language experience is over. Discover the beauty of the Mediterranean by coming along with us today.

Select your preffered English language course, duration and english camp accommodation option and sign up.
Summer in Malta is an amazing time for young people. The school has an amazing, welcoming, and enjoyable atmosphere thanks to the great weather, sea, and sun, as well as students from all over the world. After class, students have the option to go swimming or shopping, play sports, visit a historical or cultural site, participate in an activity, or simply hang out with their new friends.
Young learners can explore the St. Julians/Paceville neighborhood after dark while being under supervision by Sprachcaffe teamers who are friendly but strict. It is simple to understand why St. Julians is such a well-liked vacation spot for young people given its wonderful climate, mix of teens from all over Europe and the abundance of different activities it offers.
The school in Malta provides our teenage students with a wide and varied after-school program in addition to English classes. Numerous activities, including horseback riding, go-karting, bowling, and shopping, are prepared by our leisure team.
During Easter and autumn holidays in our school in St. Julians students also have the option to participate in our Maths- or Football Camp after class (both 75 EUR/week).
There is always a wide variety of excursions and sight-seeing opportunities because Malta is a wonderful island with a rich culture, history, and natural attractions. In addition to activities at the pool, we provide expertly planned excursions each week that allow you to explore the magnificent capital city of Valletta, the famously beautiful Blue Lagoon on the island of Comino or the entire island on the "Malta Tour."

A half-day excursion is included for students who sign up for a one-week course, two half-day excursions and one full-day excursion are included for students who sign up for a two-week course, and three half-day excursions and two full-day excursions are included for students who sign up for a three-week course. Excursions not included in the package can be bought by students for an additional fee.
There also an exciting activities schedule, featuring events like beach and boat parties, karaoke and comedy nights and parties for international students. Concerts, movie nights, Maltese dinners and excursions to Gozo are some additional activities that are not included in the price of the package. The recreation staff will be happy to offer advice on other special events, assist students with renting bicycles and reserve sports facilities and activities
First day at Summer camp!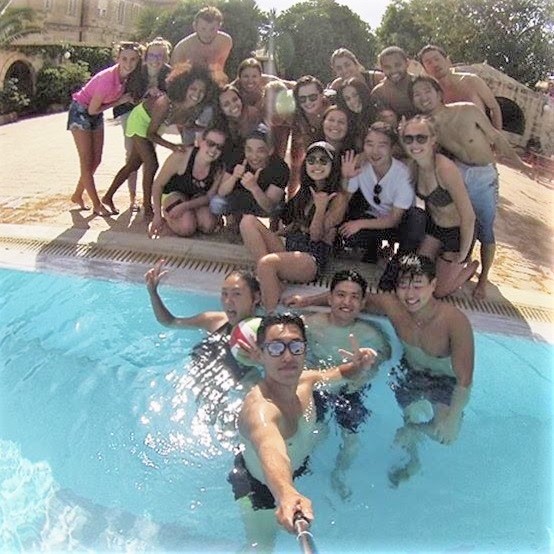 A school representative will meet you at the airport when you arrive in Malta and arrange for transportation to your school or lodging. Please keep in mind to print the necessary reservation paperwork and to have a photo ID in hand for presentation. Your assigned teamer will meet you and show you around the school after you have quickly checked into your apartment or host family. Students typically have enough time to enjoy a few hours by the pool followed by an evening meal since most arrivals take place on Sundays.
The first day of your language class is a Monday morning. Your teamer will let you know about your class at a meeting after breakfast if you took our entry level test online before arriving. You will take the test at 9:00 if you didn't take it online. Your teacher will then place you in the appropriate class after checking your spoken and written proficiency on the first day. If they are different, we will notify you and switch your class. Our teamers will take you on a tour of the neighborhood after lessons, including the shops, the beach, and other attractions. You will also take part in a Welcome party on Monday night where you can meet other Sprachcaffe students from all over the world.