The present tense in English in a nutshell
Learn the present tense in English with the help of Sprachcaffe. There are four distinct forms of the present tense. Simple Present and Present Perfect are the two basic English present tenses, and Present Progressive and Present Perfect Progressive are the two progressive present tenses.
On the corresponding topic pages, we demonstrate how to use the four English present tenses and when to use them.
Comparison of the present tense in English
We advise you to contrast the basic forms and progressive forms of the present tense in order to better understand the distinctions in the English present tense. The four English present tenses are the sole subject of our topic pages.
You can learn more about the Simple Present, Present Progressive, Present Perfect, and Present Perfect Progressive there, where you'll also find plenty of useful examples and in-depth explanations to help you master the English present.
Comparison - basic forms of the English present tenses
| Simple Present tense | Present Perfect tense |
| --- | --- |
| Regular actions | Completed action without exact time |
| General statements | Completed action with effects on the present |
| Permanent states | Action from past to present |
| Present states | Recently completed action |
| Description of properties | Action that has taken place several times |
| Scientific facts | |
Comparison of English present progressive forms
The present perfect progressive tense describes an action that started in the past and continues into the present, whereas the present progressive describes an action that is currently ongoing. This is a key distinction between the two progressive forms of the English present tense.
Your ability to use these two tenses successfully will improve if you can distinguish clearly between them. Check out the comparison of the present progressive tenses in English below.
| Present Progressive tense | Present Perfect Progressive tense |
| --- | --- |
| Action takes place at this moment | Action began in the past and continues until now |
The four present tenses used in English
The English past tense explained
Here you will learn everything about the English past tense.
Continue studying ! »
Improve your English with Sprachcaffe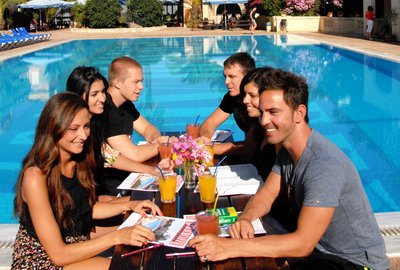 English courses for adults (Business English also available).
English Courses »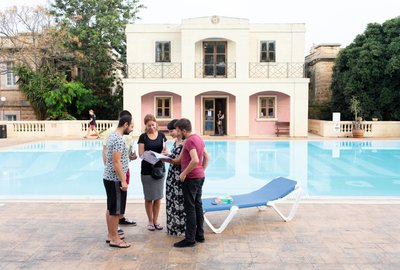 One of the biggest and definitely most beautiful English language schools on the island.
About the english school »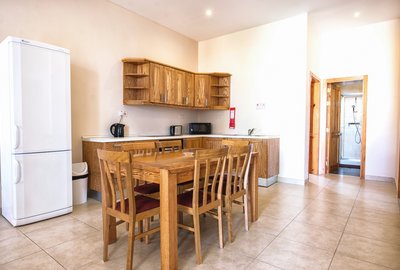 Convinced? Then enroll today and secure your place on one of our English courses.